This wiki is archived from 2021-09-05
Planetary Annihilation: TITANS & Classic PA Timeline
Jump to navigation
Jump to search
Planetary Annihilation: TITANS & Classic PA Timeline
Jump to fimbulwinter
Development & Updates Timeline to 2021-09-04
DATE
BUILD(S)
DESCRIPTION
KS
2012-08-15
Classic Planetary Annihilation Kickstarter begins
2012-09-14
Kickstarter Ends & Payment Processed
11
2013-03-22
Engine Tech Livestream
22
2013-04-18
Live Game Client Demonstration Live Stream
25
2013-05-03
Combat Livestream
26
2013-05-17
Pre-Alpha Livestream
27
2013-06-06
Alpha Begins

9 months after Kickstarter Ended

28
2013-06-13
Steam Early Access
29
2013-06-28
First Alpha Live Stream
2013-07-30
Second Alpha Live Stream
2013-08-14
Third Alpha Live Stream
2013-09-26
Beta Begins
35
2013-10-11
Beta Livestream
41
2013-11-22
Final Beta Invites
50
2013-11-27
Fall Livestream
53
2014-01-17
Gameplay Livestream
62
2014-02-27
Gamma Begins
68
2014-04-24
Gamma Update Livestream
71
2014-05-22
Galactic War
76
2014-06-03
Developer Walkthrough
78
2014-06-05
Soundtrack Available
79
2014-06-20
Early Access Retail Edition
80
2014-08-11
Launch Price $29.99
89
2014-09-05
Classic PA Launch

2 years after Kickstarter

93
2014-10-01
Steam Achievements / Badges / Trading
97
2014-10-02
Human Resources Kickstarter begins
2014-10-07
Jables Starts as PA Producer
100
2014-10-09
73939
DRM Free Offline Play
99
2014-10-20
Human Resources Kickstarter cancelled :-(
2014-11
Uber Entertainment Layoffs :-(
2014-11-25
75539
103
2014-12-17
76557
Unit Cannon
104
2015-01-28
77443
Submarines and Interplanetary Fighter
105
2015-03-13
79600
Offline Single Player Save / Load
107
2015-04-14
80462
Online Single Player Save / Load
108
2015-05-28
82369
Resume Anywhere
109
2015-06-09
82834
Galactic War Redesign
111
2015-07-31
85138
Asteroids
114
2015-08-18
86422
TITANS LAUNCH

3 years after Kickstarter

116

Free to Kickstarter Backers

66% off for existing owners of classic PA

Experimental Titans

New Units

Unit Wreckage

New Terrain

Bounty Mode

Tutorial

Balance Changes

New Engine Mechanics to support Titans

Concurrent updates to both Titans & Classic PA

AI Improvements

Galactic War Improvements

New Maps

Notification & Sound Alerts Improvements

Balance Changes

2015-08-26
86765

Balance Changes

Polish / Fixes

2015-09-09
87296

AI Improvements

Polish / Fixes

2015-09-21
88163

AI Improvements

Polish / Fixes

2015-09-23
88288
Hotfix
2015-10-14
89528
Hotfix
2015-10-22
89755

Final Uber Entertainment Updates Before Layoffs

AI Improvements

Polish / Fixes

2016-05-31
94684
Community Update

Community Mods In-Game Mod Manager

Custom Servers support

Legion Expansion support

Modding Improvements

Polish / Fixes

2016-11-21
99377
Performance Update

Multi-threaded local servers

AI Improvements

LZ4 Compression for Sever Mods (2x faster)

System Editor Rework

Connect to Game Improvements

Polish / Fixes

2016-12-05
Chat
Global Community Chat
2016-12-20
Legion Expansion Faction Mod
2017-03-05
Unit Restrictions via Community Mods
2017-06-21
105067
Enhancement Update

POV Camera

Balance Changes - Removed Commander Reclaim

Alternative Win Conditions - Sudden Death Mode for teams

Sim Speed Control for Local Servers

16 New Free Commanders

2017-10-17
108271
Balance and Community Servers Update

Balance Changes - Zeus, Leveler, Gil-E

Polish / Fixes

New Community Servers options

AI Improvements (via Community Mods)

2017-11-25
1v1 Rank Display Improvements (via Community Mods)
2017-11-26
Galactic War Exploring Improvements (via Community Mods)
2017-12-04
Unit Restrictions Improvements (via Community Mods)
2017-12-27
Game Browser Sorting Improvements (via Community Mods)
2018-03-08
Uber Entertainment removes dedicated SoftLayer servers leaving older spec EC2 instances with high contention ratios resulting in sim stalls and crashes
2018-04-09
109959
Official Chinese Translations
2018-04-15
110029
Community Hotfix for Windows and Linux Connection Issues
2018-04-17
110069
Community Hotfix for macOS Connection Issues
2018-04-18
Community Updated Uber Launchers
2018-05-01
Replay Browser Improvements (via Community Mods)
2018-05-12
Game Browser Improvements (via Community Mods)
2018-06-01
Uber Entertainment outsourced UberNet to PlayFab port rolled back to 110069 after leaking secrets in client builds
2018-08-18
Planetary Annihilation Inc

6 years after Kickstarter

Permanent 90% off TITANS upgrade discount for existing classic PA owners

118




2018-08-25
sorian returns to work on multi-threading, sim performance, new mechanics and AI
119
2018-09-05
Classic PA removed from sale

(no impact on current owners with concurrent updates to both games)

https://planetaryannihilation.com/

https://forums.planetaryannihilation.com/

https://support.planetaryannihilation.com/

120







2018-09-15
Deprecation of 32 bit client support and older unsupportable operating systems
121
2018-10-18
112176
Multi-threading and Performance Improvements

AI Improvements

Improved Crash Reporting

Polish / Fixes

Balance Changes

Modding Improvements (icon atlases optimised for up to 99,225 strategic icons)

122







2018-11-02
112314
TITANS 1v1 Ranked Ladder Reset and Seasons

Multi-threading on Official Servers

AI Improvements

123




2018-12-20
112589-pte
Modern Toolchain Test Builds with Audio Modding

AI Improvements

2018-12-31
112589

112595

Happy New Year Updates

Modern Toolchain Builds on Official Servers

AI Improvements

Audio Modding

Polish / Fixes

124
2019-01-05
Steam Daily Deal
2019-01-25
TITANS 1v1 Ranked Ladder Season 2

New 1v1 Ranked Map Pool

125
2019-02-07
112835
TITANS 1v1 Ranked Leaderboard Update
2019-03-08

2019-03-08

2019-03-20




113044

113034




Translations, AI and Modern Updates

Updated and new translations for French, German, Italian, Japanese, Korean, Russian, Spanish, Simplified Chines and Traditional Chinese

AI Improvements

Polish / Fixes

Balance Changes

126







2019-05-19

2019-05-24







113298

113318

PAnet and TITANS 1v1 Ranked Season 3

Modern servers with faster CPUs, more memory and increased bandwidth

New regions including Singapore, Tokyo and USWest

Official Dutch and Polish Translations

AI Improvements

Polish / Fixes

Balance Changes

127










2019-05-25

2019-07-03

2019-07-08

2019-07-17

2019-07-22

113410

113426

113430

113457

113462

TITANS 1v1 Ranked Mid-Season 3 Winners

Custom Line Formations

AI Improvements

Polish / Fixes

Balance Changes

128
2019-07-13
Steam Daily Deal
2019-07-25
113470
TITANS 1v1 Ranked Season 4
129
2019-08-18

2019-08-29

2019-08-29

2019-08-30

2019-08-31

113553

113578

113581

113583

113600

Happy Birthday Update

AI Improvements

Polish / Fixes

Balance Changes

130







2019-08-18

2019-08-29

2019-08-29

2019-08-30

2019-08-31

113553

113578

113581

113583

113600

Horsefly Update

Toolchain Updates

AI Improvements

Polish / Fixes

Balance Changes

131







2019-10-20
Happy Halloween!

Pumpkin Commander

132
2019-10-25
113901
TITANS 1v1 Ranked Season 5
133
2020-01-04
Steam Daily Deal
2020-01-25
113968
TITANS 1v1 Ranked Season 6
134
2020-03-14
AbleGamers 2020 Pay To Win Charity Community Tournament
135
2020-04-24

2020-04-30

114218

114220

TITANS 1v1 Ranked Season 7
136
2020-05-28

2020-06-16

2020-06-18

114344

114438

114475

Stay Safe Update

Updated Translations

Balance Changes

138
2020-06-25

2020-06-26

2020-06-28

2020-07-03

2020-07-08

2020-07-10

2020-07-12

2020-07-13

114599

114618

114628

114673

114716

114726

114750

114759

Rainbows & Unicorns Updates

Unicorn Commander

Toolchain updates

Updated Translations

Polish / Fixes

139
2020-07-23

2020-07-25

2020-07-30

2020-08-12

114776
TITANS 1v1 Ranked Season 8

Polish / Fixes

Balance Changes

140
2020-08-15
Back to launch price of US$29.99

8 years after Kickstarter

141
2020-08-18

2020-08-26

114862
TITANS 5 Year Birthday!

Radar Jamming

2020-09-03
114480
sRGB and experimental HDR10 changes
2020-10-22

2020-10-30

2020-11-18

2020-12-16

2020-12-28

2021-01-15

115003
TITANS 1v1 Ranked Season 9

Polish / Fixes

Balance Changes

Water Depth

Orbital Balance

142
2021-01-09
Steam Daily Deal
2021-01-21
115482
TITANS 1v1 Ranked Season 10
144
2021-02-13


2021-02-22

115506
Upgraded game servers and balance update
2021-04-23
115626
TITANS 1v1 Ranked Season 11
2021-06-14
115678
Balance Changes

Polish / Fixes

145
2021-06-24




2021-07-01

2021-07-14

115819

115836

115847

Fusion Updates




Galactic War Updates

146
2021-07-23
115938
TITANS 1v1 Ranked Season 12
147
2021-08-04
Dev / Support (and day to day management) resigns with 90 day notice period
2021-08-14
115958
Fusion Updates
2021-08-27
TITANS 1v1 ranked map pool expanded to the best 50 maps from all 12 seasons
2021-09-04
Planetary Annihilation Inc reverts to Uber Entertainment management
2021-09-06
Steam Daily Deal (cancelled) – Galactic War server mod support with faster mod mounting / uploading / downloading using new APIs and mod signing
2021-09-17
Community Maps (cancelled) – Improved map selection replacing map packs and system sharing
2021-10-17
Forced suspension (hopefully temporary) of community services (any services connecting to APIs)
NOTE: Community Dedicated Servers although operational can not be advertised due to the forced suspension and lack of security updates since 2021-08
NOTE: Improved Linux support, Steam Proton compatibility and better client user interface performance for ALL operating systems was part of the Coherent GT upgrade after important updates to the modding APIs to replace synchronous XHR, IndexedDB, etc.

Linux server performance was significantly better than Windows with similar results expected for the Coherent GT client upgrade.

2022-04-11
115444-dev
New dev team balance update release with incorrect older dev build number, broken 1v1 ranked, no classic PA build, no legacy builds and no dedicated servers build
2022-04-15
115517
Non dev (still old) build number to fix 1v1 ranked
2022-05-12
115673
Fixes broken maps (still old build number)
2022-06-14
115806
Fixed broken skybox mods (still old build number)
2022-09-19
116242
Default local hosting (precursor to downgrading or shutting down multiplayer servers?), Windows only insecure UPnP (Steam suggests disabling UPnP), balance, maps and AI updates
2023-04-20
116931
Balance changes with custom unit types for mods up to CUSTOM58 limiting future expansion of base game unit types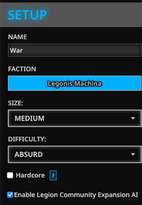 Historical Roadmap For Fusion Series
Toolchain and performance updates
Default continuous build with view of build queue
Improved map selection (map packs no longer required)
New game lobby system preview (including metal spots)
UI unicode font updates with emojis
Defeated player and spectator vision options eg defeated unshared player can only view team
Faster mod mounting, uploading and downloading
Server mods support for Galactic War
AI updates
Shields!
Note: Fusion series roadmap was removed from website and Steam news.
Kickstarter post: https://www.kickstarter.com/projects/659943965/planetary-annihilation-a-next-generation-rts/posts/3230861
New Mechanics (not included in the Fusion Series Roadmap)
Energy spots
Neutral units (army 0 support for individual units placed by map maker)
Inactive neutral units that activated temporarily or permanently via proximity of guard radius (eg map maker early / mid game area denial)
Commander only capture of neutral or inactive units with high energy cost (high risk / high reward with commander on front lines)
Commander only mass teleport of surrounding units with high energy cost where phasing units took damage but could not return fire (high risk / high reward with commander on front lines)
Map wreckage (single use metal with optional path blocking placed by map maker)
Uber Entertainment / Star Theory Games
Prior to August 2018, Planetary Annihilation was developed and published by Uber Entertainment Inc who renamed to Star Theory Games in 2019 while developing KSP2 then dissolved in March 2020.
Watch the Jim Sterling video for context: https://www.youtube.com/watch?v=bJAi5Wu3W08
Planetary Annihilation Technology
Planetary Annihilation is a cross platform client / server networked OpenGL application with a custom engine developed in 2013/2014 using C++11 and a fully moddable HTML5 user interface using Coherent UI based on Chromium.
Since 2018 the Planetary Annihilation engine had been modernised to C++17 with updated versions of third party libraries.
Historical Technology links
Game AI Pro (early approaches to tech used in Planetary Annihilation):
23. Crowd Pathfinding and Steering using Flow Field Tiles (Elijah Emerson)
30. Using Neural Networks to Control Agent Threat Response (Michael Robbins)
GDC 2012 Off The Beaten Path (early approaches to tech used in Planetary Annihilation):
17 minutes: Neural Networks in Supreme Commander 2 (Michael Robbins)
Toolchain
https://en.wikipedia.org/wiki/Toolchain
Third Party Libraries
Crash Reporting Platform
Backtrace: https://backtrace.io/
Localisation Platform
Crowdin: https://crowdin.com/
Translations
Transfluent: https://www.transfluent.com/
Security
We recommend https://1password.com/